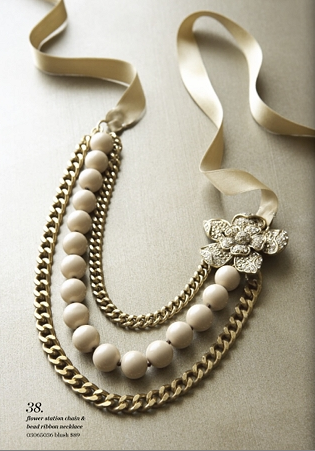 Two weeks ago when I hosted a
Premiere Designs jewelry party
, the jewelry lady showed us a really cool trick. I promised I'd share it with you. If you're into accessories at all, I'm sure you've seen the new trend incorporating ribbon into necklaces. Some are woven all the way through the necklace, and some simply use ribbons as the ties behind the neck.
You'd think that with a little cloth added and less silver and gold in these baubles, they'd be cheaper, right? Well of course not! Check out this gorgeous necklace in the photo from Talbots. That was $89 in the fall catalog! Nice ribbon necklaces can be pricey, but you may be able to take a necklace you already own and transform it for a totally new look!
So what do you think? I love anything that can take something you've already got and make it look new and stylish. All for a 75 cent ribbon. Plus I actually bought several colors of ribbons to change it up even more.
Check out all the other Fashion Friday gals!