Hmm...it seems that The Kept Woman stole my tagline "water water everywhere". Ok maybe it's on exactly MINE to steal, but still. Just kiddin', TKW! Well since I'm all about the water I guess I'd better play. I swore I'd never post this picture, but it's the oldest water-related one I could find without going digging into the albums in the basement. Fresh out of the pool on our honeymoon in the Bahamas. Good times.
On a completely different subject, I am so psyched to be going to see these guys tonight. Why? Cuz it's an acoustic show in a small theater and I will get to see my alltime hottest celebrity crush, Dave Grohl.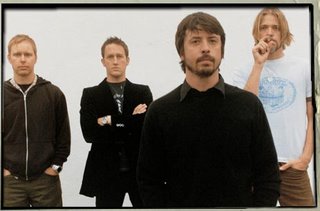 My blogpal, Lori, is going as well. See ya there, chica!!