Since I am loving photography these days and I love photoblogging, I have decided to join in on the fun of
Kristine's Stuff Portrait Fridays
. Additionally my sister is giving a speech about my blog today at her
Toastmaster's
lunch, so I thought it appropriate to introduce her to yet another phenomenon of the blogosphere.
Today's topics: 1. Favorite framed picture 2. Magazine subscriptions 3. Household Pet Peeve
1. I had to pick two favorite framed pictures. The first is a watercolor of the admin building of the private high school I attended. The artist is really good and famous in our area and we knew his family well from school. I have several others of his paintings in my house but this one is my fav for sentimental reasons.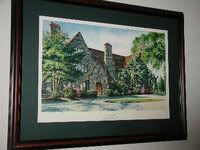 The second is, of course, our most recent family portrait. Not the most flattering pic of me in a bulky sweater but very nice overall. Time for a new one soon I think.
2. I confess, I am a recovering magazine addict. I used to fly approximately twice every week and I bought every magazine on the stand, every month. Now I turn airline miles into subscriptions, because that's all they're good for, so I get alot of magazines.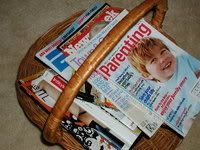 3. I don't have a ton of household pet peeves because I live in a brand new house, but this one was a biggie until last weekend when we started organizing. I know basements are supposed to be for storage, but I'm a very organized person and the fact that you can look into a room like this from the street is embarressing to me. This room has the makings of a future wonderful play room.