You can tell a lot about someone by the shoes they wear. I often notice people's shoes before I notice their clothes, their faces. Like the Stuart Weitzman ads, I'm a little obsessed with the shoes. Even when your dress size goes up and down, your shoe size generally stays the same...that is unless you get pregnant. Fortunately I found one comfy pair of Aerosole sandals when my shoe size went up during pregnancy and wore them nonstop. Then my feet returned to normal and now I am finally able to wear heels again.
Last night hubs took me on a dream date, to the Nordstrom Anniversary sale. He let me buy not one, but TWO pair of shoes I didn't need. Nordstrom is by far the best place to buy shoes and this sale is righteous. I don't buy terribly expensive shoes ever, I only lust after them. I don't own a single pair of Kate Spade's or Stuart Weitzman's or Manolo Blahniks, despite my lust. I'm too frugal for that. I was in shoe heaven last night. The only thing better would have been if it had been not so busy and I had been waited on by a cute guy in a suit that said my feet were pretty. Nathan was very patient. Even hubs bought two pair of shoes. Here's a pic of us home after our shopping, way past his bedtime.
Wanna see something else that's kind of sick? My closet doesn't normally look like this but I pulled most of my shoes out of their little cubbies for your benefit. There are more shoes to the left and right of the shot.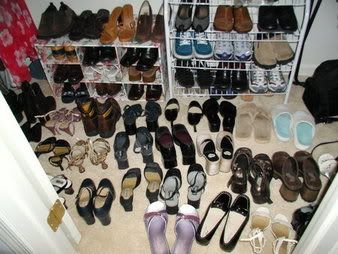 Keep in mind I just donated about 20 more pair of shoes to the emergency shelter right before we moved. I don't guess that some battered wife is going to get much use out of my wedding shoes. The two pair in the front center were my purchases last night. Those purple sandals are REALLY practical. I have five pair of almost identical black leather loafers, and six pair of brown ones. Slight variations! I have two of the same pair of Sketchers sneakers, one in purple and one in red/gray. Neither are useful for actually doing sports. Oh my. It's an illness, but a fun one.